Starpoint Adaptive Optics
Data Sheet
Semi-Custom Drive Amplifier Solutions
Overview
Deformable mirrors have a wide range of drive requirements. The numerous permutations of channel count, drive voltage, drive current and frequency response mean that a semi-custom drive amplifier solution is often the best way to meet an individual requirement.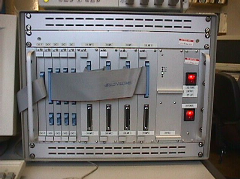 Starpoint offers a range of configuration options built around a portfolio of proven design elements. This combines demonstrated performance with the ability to meet one-off customer requirements.

The drive amplifier systems were Starpoint's first product offering. The early systems used technology licenced from the University of Durham, and provide a mature design with a proven record of reliable operation.
These systems can offer a simple, opto-isolated differential parallel data interface, a standard DAC format, and a user-specified high voltage amplifier stage. Enclosure options include 19" sub-racks. Channel counts are typically between 100 and 250, but much larger configurations can be provided.
System Specification
The spec. sheet presented here is given as an example of an available configuration.

Common Digital Interface Card
Data Format
16-bit Parallel Data; Data Strobe; Frame Sync.
Electrical Format
RS-422 compatible; differential; opto-isolated.
Data Transfer Rate
4 &times 106 samples / second
Board Form Factor
Eurocard; 6U, 4HP (0.8") wide
Common D-to-A Converter Card
No. of DAC channels per board
32
DAC Resolution
13 bits
Board Form Factor
Eurocard; 6U, 4HP (0.8") wide
High Voltage Amplifier Board
No. of HV channels per board
30
Output Voltage Range
-215V to +215V
Output Drive Current (max.)
4mA
Signal Bandwidth
1kHz @ -3dB corner
Actuator Load Capacitance
6 nF
Quiescent Power (max.)
1.4W / channel
HV Amplifier Board Form Factor
Eurocard; 6U, 10HP (2.0") wide
System Characteristics
No. of drive channels in system
228
No. of HV Amplifier boards in system
8
Enclosure Dimensions
2 &times 6U, 19" sub-racks.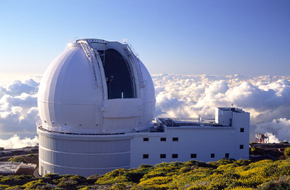 The system listed here is of the type in use on the NAOMI common-user adaptive optics facility on the 4.2m William Herschel Telescope (right), where it has operated since the summer of 2000.


(Photo courtesy of the Isaac Newton Group of Telescopes, La Palma.)

© 2002–2011 Starpoint Adaptive Optics Limited